I have been really into my newest game design over the last few weeks called Memaw's Monsters. I'm excited to document my process of creating my game from start to finish.
The following is a recap of several Facebook posts I made on the Streamlined Gaming Facebook Page.
(5/26/2018) Getting the printer ready for my first print run of my newest prototype.
Me and nasus are both pumped in this video. I look forward to sharing my game design (and creation) process with you all!
(5/26) Talking about my newest prototype as the first set of monsters get printed at my apartment.
It feels exciting finally having my game idea come together after 3 weeks of planning it out!
I still have several decks of cards to go but this is a fun start.
Here is the 4 minute video of me explaining Memaw's Monsters as it gets printed.
(5/27) Getting this prototype closer and closer to being played for the first time.
The three photos below show an example of how I make my cards at home:
1. Cutting out the cards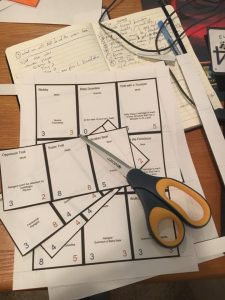 2. Unsleeving my last prototype which was a numbers card game for kids (I made it as a challenge. Played it for one session and didn't like the direction so I scrapped it)

3. Sleeving up the freshly cut cards!
(Additional Read: See how you can make trading cards using NanDeck)
(5/27) Trying to make the game semi balanced before the first play test.
After I printed off the cards I layed them out and looked at "the curve" of the monsters health. Doing this will help me analyze and understand some of the math behind my initial game design.
"The curve" is a popular term in trading card games that refers to the mathematical "curve" of something. Usually it's used to talk about how many of each card you have in your deck for each cost. Im using it in a slightly different way.
For example, the way I'm analyzing "the curve" of my cards is by laying them out on the table and seeing the health stats of each card.
My monster cards have added health that equal 4-9 health. As you can see in the image I have a LOT of cards that equal 8 health.
Once laid out, I was able to quickly add them up and get the average health of all the monster cards (6.5 ish was the average).
Now that I know the average health of monsters, I can create the defensive cards much easier and more balanced because I now know how much health the defense will need to fend off.
I just made the towers for the defense player and can now make the rest of their cards.
Here's to progress!
(Also Read: Pitching Your Board Game to Get More Playtesters)
(5/28) A quick question for TCG players as I start creating the defensive cards in my newest prototype…
**Note – I asked the following question to the SLG Facebook audience and they came up with some great suggestions (see below)**
What kind of things do you like doing as the control player in card games?
So far I have:
– drawing cards
– card combos
– planning ahead (cards that have counters that tick down each turn then resolve after the last tick for example)
– controlling the characters on the board (moving them around or giving them less attack/health)
– outwitting your opponent by way of bluffing (making them think you have an answer when you don't)
– manipulating opponents hand/deck
– preventing damage or negating it.
Am I missing other obvious fun experiences the control players usually end up doing?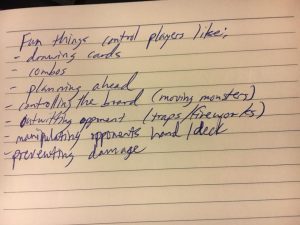 Here is Some of the Facebook Audience Feedback:
Garret suggested "board clearing/complete board clear, if your game idea can tempo back up quick enough for that not to stall it out."
Randy and Jim reminded me about making the control decks fun in a way that not toxic to the rush/offense.
Rob added that "surprising the other guy with interrupt plays is pretty popular."
(Video Chat: Where to have your prototype playtested and tips for building up fans early)
(5/29) Finding my brain stuck in an endless loop and discovering how to resolve the issue.
I was having trouble trying to figure out what kind of tools (cards) I wanted to give the defensive player in my new Tower Defense game.
At one point I noticed that my brain was just thinking over many options repeatedly. While it FELT like I was making progress, I was in fact going nowhere but in constant circles.
Now that I realized I was stuck in a loop, I could analyze what happened and see how to fix it. I plan on focusing on 1 direction at a time for the defensive cards and creating them that way. This will help me focus my energy and start progressing.
I have a little time before my first playtest session and want to make sure I'm ready with at least SOMETHING to try out!
**Note – Not long after coming out of being stuck in a loop, I asked the SLG Facebook audience for some more input on the following.**
What is a good keyword for "target tower you control attacks immediately"?
I've thought of…
– Extra Ammo
– Mastery
– Activate
– Reload
I actually JUST thought of "Reload" as I wrote this post and kind of like it but don't really like the others very well.
(EDIT – Thanks for pointing out that the theme of the game is important for your decision. The theme is "Fantasy" mixed with "Modern Day Life". The idea of the game is that kids and their grandma are experiencing a dream where the Monsters from the grandmothers stories the night before are attacking the base that the grandkids made. I have monsters in the game ranging from "bears" to "trolls" and everything between.)
What comes to your mind for the keyword for this type of defensive effect?
Some popular answers:
Fire at Will (Jim and Jed)
Trigger/Activate
Other answers:
Volley
Seige Repouse (French for "Counter Attack")
Retaliate
Barrage/Cannonade/Point Defense
**Update – While there were some really good answers, I ended up sticking with "Reload" for the time being. I may change that as the game develops.**
(Also Read: Here's a list of fun 2 player card games for you to try out with your best friend)
(5/30) Trying to Build a Strong Foundation for How the Defensive Cards Will Play While Having a Good Game Balance.
So I'm finally making progress on the defensive cards after about a week of being done making the offensive cards (monsters).
Creating a strong backbone to my game, Memaw's Monsters, is really difficult. But once I have the backbone created, I will be able to make up new cards VERY quickly as there would be a strong reference for power level of each card.
For example, the resource system I have in place right now for the defensive players turn is this: The def. player has 6 "energy" (resources) that they can spend to cast spells and traps.
Because I have already done the math on my Monster cards and know about how much health each of them will be sending per turn, I can now set guidelines for how strong the defensive cards need to be.
With the offensive player sending about 6.5 health per monster…. Uh oh… I just realized they are sending 6.5 health per monster and not per TURN!!! Oopss. haha.
(As I am writing this I just realized all of my math is off for my defensive cards. Well darn!! Oh well, it will at least be easier to update now that I know approximately how much firepower the defense will need.)
So the monster player will be sending around 13 health of monsters on an average turn!!! haha! I can now go back in and continue creating the Defensive cards to match this. I have a good idea of what I want the Def. cards to do now so it will just be a matter of updating the damage/stats of the individual cards.
Anyways… here is a picture of my Google Sheet I am working in. I am able to access it through NanDeck which I can use to quickly print and easily update my cards with in between each playtest.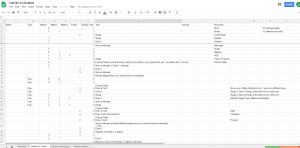 Thanks for all of the advice and feedback that you have given so far. It is helpful and inspiring to me.
Back to the Google Sheet I go!!!
(Interested in pitching your game to a publisher? Here are some great tips from the President of a game publishing company)
(5/31) Tomorrow is the big day! Getting ready for the first playtest with my brother(s)
I'm really excited to finally be getting this idea out of my head and onto paper. Sleeving up such a complex set of ideas feels good after having them roll around in my head for weeks on end.
Today I am still working through the defensive cards after (thankfully) noticing that my math was off by 2x what it should have been, yesterday!
A couple of cool things I'm wanting to try with the defensive deck is:
I originally had cards dealing something like "4, 2" damage in a lane. So 4 damage to one monster and 2 to another monster in that lane. Or "1,1,1" which dealt 1 damage to each of up to three different monsters in that lane. Now I have replaced that with a much more streamlined version. My "AOE", or Area of Effect type of cards are now "NatureAttack". So if a card would deal 6 nature damage, you would split up 6 damage as you wish to monsters in that lane.
Another cool thing I'm trying is having a "Helper" deck. As the defensive player casts spells, there is a "Quest" keyword. Once you receive a certain amount of quests, you can draw a helper card from the helper deck. These cards have energy costs like your normal cards but do very powerful things. I learned this mechanic from Faeria, a digital tactics card game. It's also perfect for the theme of Memaw's Monsters because we often had the same characters (Henry the Elf and Whaley the Whale) help us with the monsters.
Fun stuff and I'm really excited to get to play tomorrow. Woohooo!!
Here's to us getting to play more than 10 minutes before figuring out all of the broken cards/mechanics.
(5/31) Making a quick prototype of the Defense cards in NanDeck
I finally got a rough draft of the Defensive cards done. Making the prototypes in NanDeck has saved me MANY hours of time and frustration over the years so I wanted to share this process with you.
Watch me use a Google Sheet linked to NanDeck to make my first prototype. It takes a bit to set up but the value is in prototypes 2-4000 🙂
(6/1) Quickly adding names to the defensive cards
Who needs an alarm clock when it's playtest day?!?!
I rushed to add some names to the cards.
They are somewhat placeholder names that I hope to serve 2 purposes in today's first play test:
1. I'm hoping this will help the players be able to ask questions about the defensive cards more efficiently.
2. And I'm wanting the names to spark some thought about what names might work best with the game theme. I have some names that sound like spells ("fireball"). Some that sound like mindsets ("mindfulness"). And some that sound like achievements ("cleaning chores"). These words remind me of things that are common with kids and some things we did at memaw's growing up.
I'm still excited and hopeful I get to do the first play test here in a few hours. Woohooo!
P.S. I had to take a nap earlier for the first time in awhile. I think the excitement had drained me (waking up 30 minutes before my alarm this morning for example)
(Game List: Check out some of the top strategy games of this century here)
Awaiting the First Playtest of Memaw's Monsters!
I'm so excited to get to play Memaw's Monsters for the first time and I also look forward to sharing the experience with you! I think it's going to be really cool looking back on this process in the following years. Hopefully it will be semi entertaining in the near term as well!
(Also – Want to learn more about making and selling a board game? Get the answers to many questions new board game designers have here.)