I have seen and tried many different ways to print card games at home. But I want to show you the way I like best.
There are a lot of creative people out there that started making card games with notecards and a pen. I know that is how I started.
But as I went through years and years of trial and error. I found better tools to use to print out my own card games.
My method also works well for printing other people's Print & Play games to playtest.
While there are many other methods out there to print your own playing cards. This is the method I have found to be most efficient while still looking and feeling professional.
And just so you know. Here is a way that Nick Hayes has shared with the community that is supposed to be even more professional than my method.
But I still prefer my method in general for the card game prototypes I make.  Though once you are 95% done with balancing your game, I would recommend getting it professionally printed from one of these companies.
Mainly because I make so many balance changes to my games that I am constantly printing and cutting out the new cards.
Now onto the method. We must first…
My Experience:
I have personally used the HP InkJet 5740 Printer for almost all of my card printing. It has worked great.
I don't know too much about which printers are the most cost efficient but this one seemed pretty good. The box of ink that I buy says it can print about 165 pages of color colored cards. Or 200 pages of plain black and white. However, my cards were very detailed (see image for this post) and took a lot more ink to print. So I probably only got about 125 pages per cartridge.
But that is still way better than having to print them at a local print shop like Office Depot. Something my friend sometimes has to do in a bind at a convention.
Though I do recommend using a local printer if you only want to print out a few pages of cards.
(Related – Ever thought about making a board game? Get the answers to many questions new board game designers have here.)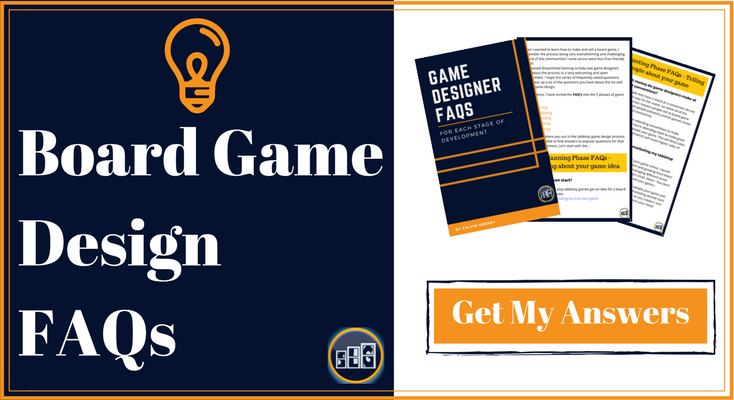 My Experience:
Once I found  thick cardstock like this, I never used regular printing paper again.
I used to use the basic "multi purpose" paper that is cheap. But it's too thin. The ink bleeds right through and you can't really shuffle the cards.
Your cards will feel much more like actual playing cards with thick card stock. And the ink won't show through. Well, to be honest I could still see through them a little if I held them up to a light. But in general, I couldn't see through them at all. This method is also much more effective at getting playtesters than my old fashioned "write on notecards" technique.
The prototypes that I have made that felt the closest to "real playing cards" used this type of card stock and were placed in sleeves (see below).
Less expensive option for game designers that have extra cards laying around:
People have also found it useful to print on thin paper like this and put their cards in front of old trading cards. If you have some old cards that you don't use anymore, then you can sleeve them up (see step #5). And then place your thin paper cards in front of them.
Pros – This cheaper method is good because the cards will still shuffle well in the sleeves and they cost less.
Cons – The cards look worse when there is an old Magic the Gathering card behind them and the paper is seethrough.
My thoughts – Use the less expensive method for early on prototyping. Then once your game is 80-90% complete and you are making less balance changes, start printing with the thicker cardstock. It will look better and be more attractive to publishers and playtesters.
My Experience:
I actually use scissors like this right now. But every time I am in the middle of cutting out my cards, I think "I REALLY need to get a paper cutter."
And then I finish cutting the cards and forget about it until a couple of weeks go by and I am cutting out more cards. Or when I am writing an article about it. *I really do need to get one of these paper cutters…*
I have seen other people post about how much they like their paper cutter. And how much time their paper cutter saves them.
So if you like printing out a lot of cards, then I think you would really thank yourself if you got one of these. There are many to choose from, but I linked this one because it is the one I want to buy next.
(Related Reading: Introduce a family or friend to these fun and easy to learn board games.)
A Rotatrim Cutter –

An Expensive but More Precise Alternative to a Guillotine Cutter
This Rotatrim cutter is a top of the line manual paper cutter/trimmer. These are very expensive and you probably wouldn't need these for prototyping. But if you find yourself cutting out a lot of items and need it to be precise, then this is the best there is.
Photographers working in a dark room used these for extra precise cuts. I remember using one of these in my college Photography classes. It was really nice but I never realized how expensive they were!
My take on the Rotatrim – I would still 
personally just get the guillotine cutter for my prototyping projects. But I could see a day where I invest in a Rotatrim like this. If I had some big projects that required precision or if I had a child and I wanted them to be safer working on projects with me.
(Related – Almost everything you need to know about making a professional looking prototype)
Update!
If you choose to go with the electrical card cutter above, then you don't need to use a corner cutter like this. However, this corner cutter still saves a lot of time for those of us that cut out cards manually.
My Experience:
I could have put this step in with the "cut out the cards" step. But I wanted this part to stand out because I think the cards look and feel much better when the corners have been cut.
When I first started printing my own card games. I would cut out my cards and start shuffling them. But something seemed off…
Then one day I was looking through some old WoW (World of Warcraft) tcg cards. And I noticed that they had rounded corners.
"Oh yeah!" I thought.
I immediately purchased a corner cutter and have enjoyed the feel of the cards much more since.
**Note – The corner cutter I have listed here is the one I would buy if I was shopping for one now. The one I have been using is this one. It is a good one but there have been times where I wished I could adjust the size of the cut. So I would rather get the adjustable one shown in the picture (or link below).
(Also Read – Craft the perfect pitch to entice playtesters to test out your prototype)
My Experience:
And the last thing I do is sleeve the cards with these matte card protectors.
I love the feel of sleeved cards. And with the thickness of the card stock, the cards actually feel close to that of a standard sleeved card.
Also, the ink will rub off onto your fingers while shuffling the cards using this method if you don't sleeve them. This is another reason I like them sleeved.
Adhesive Alternative – For those that don't like sleeves
I have also seen people spray their cards after printing them (step 2 of this process).
The typical spray that is used to coat the cards is Acrylic Adhesive spray.
I wouldn't want to personally do this but I wanted you to know what others have found to work. My preference is to simply sleeve the cards.
**Note – I use the Matte card sleeves for my prototypes. They have a somewhat dull look to the front of them. I like this because it blocks glare on the cards.
But feel free to use whichever card sleeves you want. Just be sure to get the right size.
The "standard size" sleeves that fit Magic the Gathering (MtG) cards are almost always the size you will want. Especially if you are printing standard "poker sized" cards (which are 2.5 in X 3.5 in.)
(Related: You might also like reading our interview with a board game manufacturer)
My Experience:
I haven't laminated any of my cards but several other game designers have recommended it to me. This is what one person highly recommended if you want to laminate your prototype. He specifically used it to laminate player mats because they didn't get reprinted often.
Laminating the cards seems like it would work best with:
Cards that you don't plan to have to reprint much such as score trackers and player mats and
Cards that don't need to be shuffled
If you are needing to shuffle your cards, then I still would recommend using card sleeves as seen above.
(See also – 5 ways to make your prototype more entertaining and fun)
Your Thoughts on Printing Cards for Board Games at Home?
How do you print card games at home?
Let's all work together and find what ways work best. Please share your thoughts in the comments section below so others can learn from you. I look forward to seeing what you have found useful in making your cards at home as well.
(Related – Ever thought about making a board game? Get the answers to many questions new board game designers have here.)