"How much does artwork for board games cost?"
I asked this question a lot as I made my first game prototypes.
And today I got an answer from James Colmer.
He is our first board game artist to interview and I am very happy that he took the time to answer a lot of the questions I have about the artists side of game design.
I also want to say a quick thanks to those of you that suggested some of these questions that I asked today.
If you have any other questions you want answered, leave them in the comments below and I will ask them in future interviews.
About James and Mad Inventor Games (His Company)
Name – James Colmer (see his amazing art portfolio)
Location – Adelaide, South Australia
Company – Mad Inventor Games
You can see James' art here on his ArtStation. Click on any of the images in the ArtStation to open a new page with even more amazing images from that portfolio.
He also has a Mad Inventor Games Facebook page you can follow as well.
James has worked on several big name games. But right now he has been focusing on 2 games of his own.
You can see his artwork from both of these games in his ArtStation. Above Top Secret and Ravenwood are his own games he has been working on. And they look awesome!
1. What is one of your favorite board game box artwork (that isn't your own)?
I really like the cover art on Covert and Mysterium, that's the sort of artwork that makes me want to buy the game.


2. What software and tools do you use to create your art?
Mostly just Photoshop CS3. I find the later versions unnecessarily complicated.
I sometimes use 123D and Fusion 360 to make miniature renders such as the Time Machine in Ravenwood.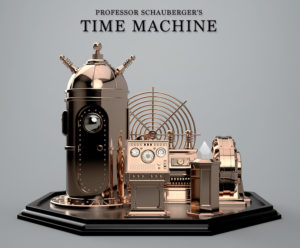 3. On average, how much does art cost for tabletop game cards?
This is always the first question I get, as obviously clients want to budget their game assets.
It all depends upon complexity.
So artwork with characters or complex backgrounds will take longer. Whereas a single object with a very simple or one colour background will be easier and quicker to produce.
On average though the range falls between AUD$100 ($75.70 USD) and AUD$250 ($189.24 USD) per card (Artwork only, not the border design and graphics)
4. How much would one of your images like this cost? And also how much would the card layout art (frame) around the image cost (everything but the center image)?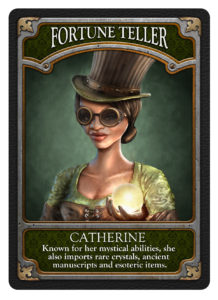 Each of the Ravenwood Characters developed over several months, and as it was my own game, time is not important as such.
However to create a piece directly like that would be around AUD $250 ($189.24 USD) per character. The custom 3D style frame is not actually 3D at all. It's all created with layer styles in Photoshop and would probably be around AUD$200 ($151.39 USD) to create from scratch.
Obviously you only need to do a frame once if you're using it on all your cards.
(Related – Learn how to make professional looking cards with your art using NanDeck.)
James' History as a Digital Artist
5. How long have you been creating digital art?
I have a love-hate relationship with Digital anything. I grew up in an analogue world and trained at Fine Art School in the 80's.
So my background is traditional art and methods. But when Digital came in I was forced to adapt.
I began working with Photoshop 20 years ago. During that time I spent 7 years training to be a Digital Matte Painter for the Feature Film Industry, which is where my photo-realism comes from.
But that job was taken over by 3D Generalists and became obsolete.
6. Have you always wanted to make art for games or did your love of art start with something else?
No, absolutely not. I stumbled into Board Games quite by accident only about 10 months ago. I was in a game shop and was handed a free set of MTG cards, and was instantly intrigued. It opened up a whole new world which I'm now completely immersed in, creating my own games, and working on other peoples as well.
7. Which piece of your artwork are you most proud of?
That would have to be the Steampunk Town scene that I'm using for Ravenwood.
It was done a few years ago to test the limits of my Digital Matte Painting skills.
And I created it all in 2D, no 3D used.
It took approx 250 hours to complete, and is enormous. It was over 700 active layers.
I'm pretty happy with how it turned out but I have to explain to clients it's not something I could easily do again. And certainly not without a massive budget!
8. What is your favorite thing about creating amazing artwork for board games?
I love the challenge of each piece.
Every new piece is something unique and I have to pause and wonder "how am I going to do this in the time requirements and for the budget the client has?"
If it's my own game, I can feel free to create whatever comes into my imagination and have complete control over the final look.
Knowing that the artwork is one day going to be sitting in a shop or someone's house (and they will be playing it) is really super exciting to me.
In the Film Industry, your work is often never even seen or recognized.
9. What are several things you don't like about being a board game artist?
The hardest part is paying the bills.
It's not consistent reliable income that you can count on, not yet for me anyway.
Negotiating with clients who want artwork for the least amount of time and money possible.
It's very stressful having to make artwork at high speed sometimes.
Or deal with people who think art should be free.
On average I get paid half what a mechanic or other tradesperson gets per hour.
Even a dog washer makes more than a board game artist.
Location is a big thing too. People who are used to getting artwork from artists in Europe, China or India for example, sometimes expect the same low rate.
How a Board Game Artist Communicates with a Game Designer
10. What makes it easier for you to better understand the world that a game designer is trying to create?
Now that I'm creating my own games I have an understanding of the process involved, so that really helps.
A designer usually comes along with a Theme and examples of work they like. Then asks if I can produce work like that.
Every game is different so you have to be able to work in a variety of styles sometimes where needed.
Unless you have a style that people want and that's where I'm heading I hope.
11. What is a common question (or 2 or 3) that you get from game designers wanting art for their self-published games?
The number one question every time is: How much per card?
Sometimes I get asked what my hourly rate is and how long it takes to make a piece of art.
That really becomes a time trap for artists as you're suddenly on the clock and clients will try to squeeze that time as much they can.
Another common question is "Can you paint like this?" And they send you an example.
Alternatively, an example of another main question is ""Do you have an example of Japanese Samurai Artwork?" This question usually means they are looking for an artist to do a very specific job (like with a Japanese Samurai theme).
What do you think about our first board game artist interview?
I know I learned a lot from James in this interview.
Now I'm curious to know what you found interesting. And equally curious to hear what questions you want me to ask artists in the future.
Let me know in the comments below and I will ask them for you.
Want to see more interviews? Check out…
Justin Purvis – Creator of the World Greatest Movie Trivia Game
Eva Xu – Do Fine Games Manufacturer
Late Knight Games – How to Self Publish an RPG Through Kickstarter